Bamboo
Bamboo is a wild and abundantly available plant species that grows all over China. It requires much less water than most other fibre species and when organically grown like ours, it requires no pesticides and fertilizers at all. Besides that, bamboo has natural anti-bacterial, anti-fungal and moisture wicking properties, while its hollow structure allows the bamboo material to be warm yet breathable. Amazing right? Bamboo keeps your feet fresh all day. So that probably makes you wonder why this fabric has not been used frequently. Historically the tough fibre was used to make a variety of accessories such as straw baskets and hats. However, due to ground-breaking innovation over time, our organic bamboo can be transformed into a pulp and used as input materials for an eco-friendly and closed-loop viscose production process. This allows us to create the super soft and comfortable eco bamboo viscose material to make your Underworks bamboo socks. Even more amazing! If you would like to learn more the process is explained below.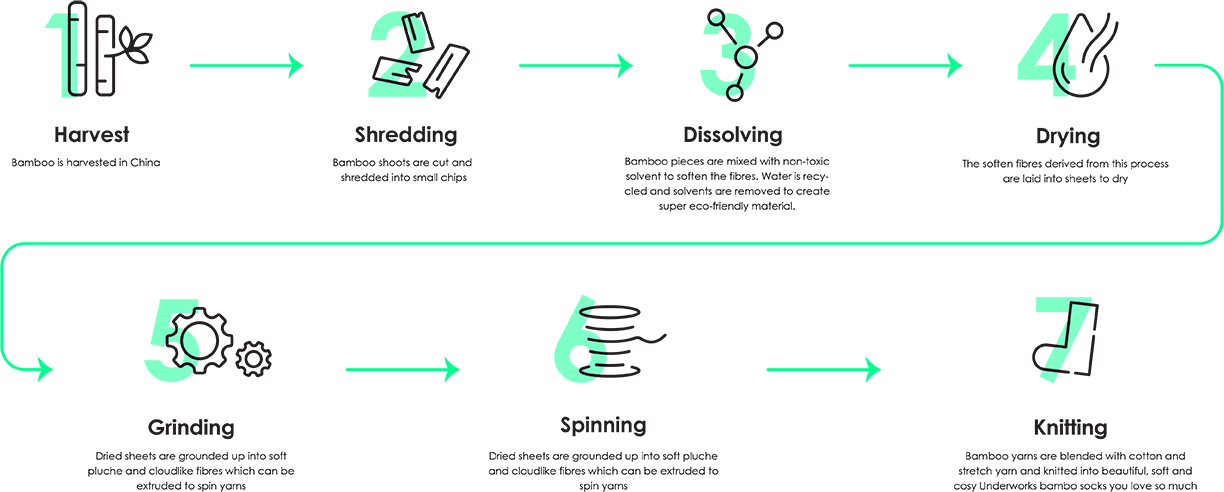 And what's more. Our bamboo viscose socks are ethically made, respecting worker rights and fair labour conditions. Our factories are SGS audited. The materials are OEKO TEX certified, showing that they have no traces of toxic chemicals or residues.
Impact
Rainwater only
No irrigation needed

No pesticles used
No fertilizer used

Solvents captured
Production water recycled

Designed in Australia
Ethically made
Check out these bamboo socks
Check out the following bamboo socks made with our super soft, eco-friendly bamboo viscose. We promise that if you try them, you will never want to go back. As all of our products, our bamboo products are designed for durability and thus made to last.