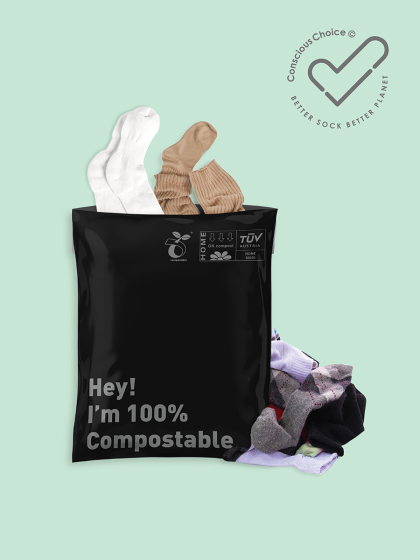 Recycle your old socks with Underworks and get 10% OFF your next order. Together with Upparel, we are closing the loop on textile waste and giving your old socks a new life. Only available in Australia. Before purchasing this product, please check HERE whether there are any drop-off points near you.

T&C's Apply – Only available in Australia. Only 10% OFF on your next order, after your first satchel order (1-time only offer).
How does it work?
Step 1.

Buy a prepaid compostable satchel with your current order.

Step 2.

Fill up the satchel with all your old socks, tights and hosiery and send them back via any of the dedicated drop off points.

Step 3.

Receive a 10% discount voucher for your next order in your inbox.
Terms & Conditions apply.
Why recycle my old socks?
800,000,000 kilograms are thrown away every year
Australians discard over 23kg of textiles annually, equalling 6,000kg of textile waste being disposed every 10 minutes. Globally, 87% of disposed textiles are sent to landfill or incinerated; 12% is mechanically recycled into fibre, insulation material or rags; and LESS than 1% is chemically recycled back to reusable raw materials.
You'll have a positive impact
For every 1kg of textiles you divert from landfill, you'll be preventing 3-4kg of greenhouse gases from polluting the atmosphere. UPPAREL makes it easy and take the hassle out of determining whether to reuse, upcycle or recycle your textiles.
Nothing will end up in landfill
By implementing their philosophy of reuse first where possible, then upcycle when necessary, UPPAREL will ensure that nothing is ever sent off-shore or dumped in landfill.
We'll reward you for doing good
You'll score a 10% discount code just for participating in the program (10% off your next order, T&C's apply). Spend it knowing that you've positively contributed to the fight against textile landfill.
Frequently asked questions
All unwanted socks, stockings and tights in any condition. Please make sure they are washed.

Once you get your prepaid satchel and you have filled it up and closed it up you can drop it off at any of the drop off points listed in the e-mail sent out to you. If you have not received an email, please reach out to us (customerservice@underworks.com.au)!

For every parcel of socks sent back to us you will receive a voucher for 10% off your next order. T&C apply.

For every kg of socks, stocks and tights sent back to us you save approximately 4kg of greenhouse gas emissions.

Up to 10kg, as along as it fits in the bag.

Currently 65% of items that UPPAREL is receiving are in new or fit-for-wear condition and are prepared to be passed onto our epic Australian partners; Save The Children, Sacred Heart Mission, Ready Set Australia, St Kilda Mums and Good360 Australia! The remaining 35% are assessed for their suitability to be upcycled into new items or recycled into new materials.

The credit voucher is only issued for your first collection. Each subsequent collection that you purchase will not qualify for an additional store credit.

Great question! Whilst the $7.50 fee is fully redeemable in the form of a store credit, it also helps to contribute towards a number of the costs involved in operating a textile recycling initiative, such as shipping and recycling the items, of which the costs are covered by Underworks. The average cost to collect 10kg across Australia is $22.03 (though you can imagine how these increase for rural collections). There are also the costs associated in storing items, separating them, sorting them based on their second life use and preparing new or fit-for-wear items to be distributed to UPPAREL's epic Australian partners; Save The Children, Sacred Heart Mission, Ready Set Australia, St Kilda Mums and Good360 Australia! The collection fee is really important in contributing towards these costs and supporting Upparel's mission as a small Australian start-up to keep textiles out of landfill and create a circular fashion system.